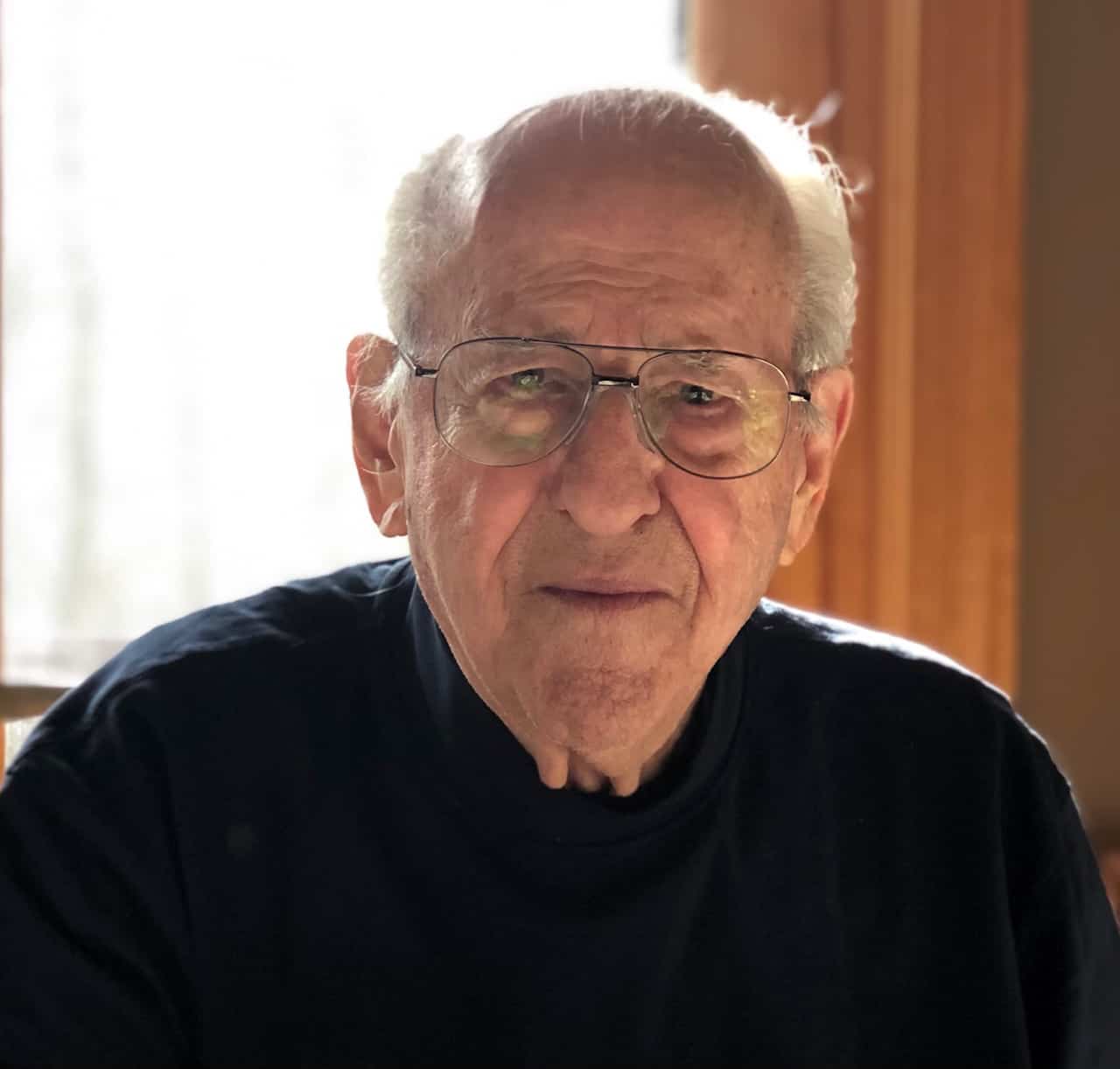 Aaron Donald Augsburger
December 21, 1925 – November 27, 2022
Aaron Donald Augsburger, of Harrisonburg, Virginia, died at Virginia Mennonite Retirement Community surrounded by his family on November 27, 2022, at the age of 96.
Don was born on December 21, 1925, in Elida, Ohio to Clarence and Estella (Shenk) Augsburger, and married Martha Louise Kling Augsburger on June 5, 1948, in Paradise, Pennsylvania. Don and Martha had been married for 68 years when Martha died on February 18, 2016.
Don was a respected minister, educator, and leader in the Mennonite Church. His ministry and teaching influenced many. He received his education at Eastern Mennonite College (A.B.), Eastern Baptist Seminary (M.R.E.), and Temple University (D.Ed.)
He taught in several Christian schools at the elementary, jr. high and high school levels. He was the guidance counselor and later superintendent for two years at Bethany Christian High School. He taught in the field of Christian education at Eastern Mennonite University and in several seminaries. He became a professor in the field of Work of the Church. He also served as assistant to the dean at Goshen College Biblical Seminary.
Don was ordained as a minister in the Mennonite Church in 1951, and pastored in at least twelve settings including: East Chestnut Street Mennonite Church, Lancaster PA, North Goshen Mennonite Church, Goshen, IN, Park View Mennonite Church, Harrisonburg, VA, Bahia Vista Mennonite Church, Sarasota, FL, and Lancaster Mennonite Home, Lancaster, PA. He concluded his work as a minister in 2003 by serving as pastor at Marion Mennonite Church, Chambersburg, PA. While in Florida he was president of the Sarasota Ministerial Association. He also served as an ordained bishop in several Mennonite conferences.
Don served in church-wide leadership, including as moderator of the General Assembly of the Mennonite Church and as a member of the Mennonite Commission for Christian Education. He authored several books, Creating Christian Personality, published in 1966, Marriages that Work in 1984, A Pattern for Living, in 1993, and Reshaping Your Marriage in 1996. He authored a children's book The World is a Beautiful Place, illustrated by his granddaughter Lara Ressler Horst (2007).
Don was a servant leader and a gentle and caring husband, father, brother, and friend. He is deeply loved by his family. His children have fond memories of his many pranks, from short- sheeting the beds to dressing in disguise to surprise them at public events. He greatly enjoyed writing and reciting poetry. He was driven by his desire to learn and improve, closely following current events and teaching himself baking, clock repair, watercolor, oil painting, and how to play the clarinet, guitar, organ, and the pan flute. He also never refused a piece of pie!
Don is survived by three children – Phyllis Anne Ressler (husband, Everett Ressler) of Harrisonburg, VA, Patricia Louise Augsburger (husband, Wilbur Ressler) of Richmond, CA, Don Richard Augsburger (wife, Jane Rutt) of Alexandria, VA, and five grandchildren and seven great-grandchildren. He is survived by two brothers – Myron S. (Esther) Augsburger of Harrisonburg, VA and David W. (Leann) Augsburger of Clairemont, CA, and his sister – Anna Mary (Milton) Good of Elizabethtown, PA. He was preceded in death by his brothers, S. Dan (Garneita) Augsburger and Fred E. (Carolyn) Augsburger.
His memorial service will be held on December 16, 2022, at 4:00 pm at Park View Mennonite Church, 1600 College Ave, Harrisonburg, VA 22802. The service will also be available virtually at www.pvmchurch.org/donaugsburger
Inurnment will be at Bahia Vista Mennonite Church, Sarasota, FL. Messages to the family or a tribute to Don can be submitted at www.donaugsburger.com. Any gifts in memory of Don should be sent to the Mennonite Central Committee, 21 South 12th Street, PO Box 500, Akron, Pennsylvania 17501-0500.
You are welcome to share thoughts or memories about Don.
Eugene R. Witmer
Many memories, but when he needed a place to live while attending Eastern Baptist Seminary, it so happened that Anne and I were going to be away that same year and our house in Soudersburg, Rt 30 was a definite "fit" for Don and Martha and we were delighted for that plan, for him to commute to EBS zooming right down Route 30. Romans 8:28 again.
Rachel Winheld
It was an honor to have spent some precious moments talking with Dr. Augsburger, here in California at Pat and Wil's home, and during a visit to Virginia. His family was devoted to him. He was blessed with their love and devotion. My condolences.
James Rhodes
Gentle and understanding as my prof/mentor during my seminary assistant year at Weavers Mennonite Church (1974-75).
Dennis & Linda Gingerich
Sending our love and condolances to all of the family. So many memories of family gatherings and the joy Uncle Don brought to the family. He will be missed! Blessings of peace and comfort to all of you.
Any gifts in memory of Don should be sent to:
Mennonite Central Committee
PO Box 500
Akron, PA 17501-0500
or donate online: